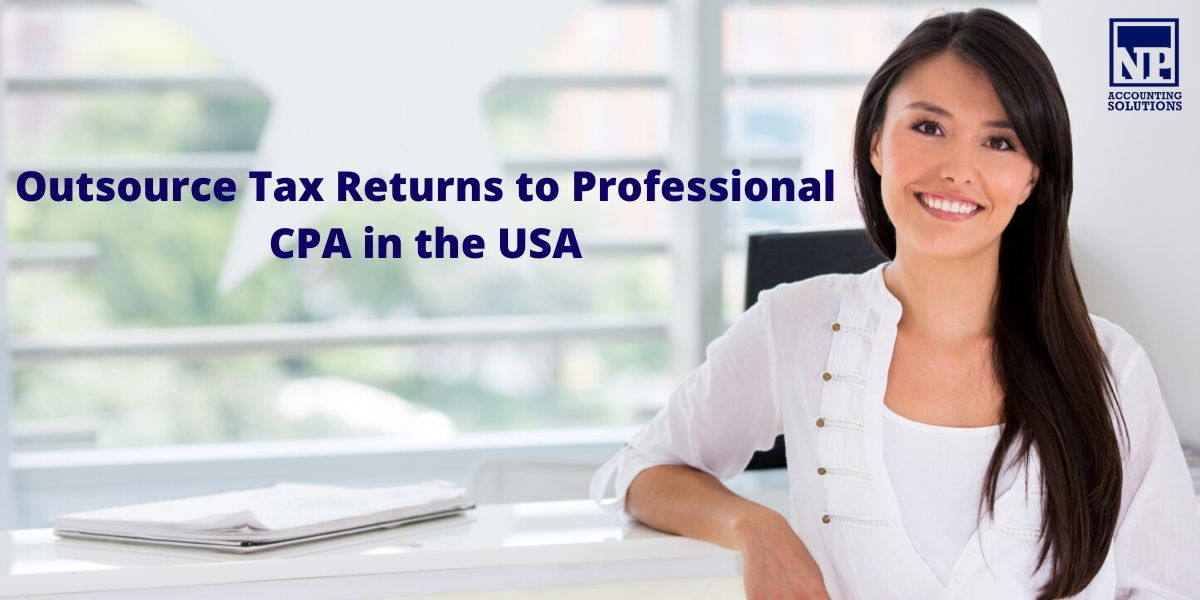 13 Mar

Outsource Tax Returns to Professional CPA in the USA

The tax return drives all the business establishments around the world crazy during the busy tax season. This indicates the necessity to outsource tax returns to professional CPA (Certified Professional Accountant). Whether it's for personal or business tax returns, you can partner with a professional CPA. They can help you deal with your needs, tax liabilities and refunds during tax preparation.

You can relax and focus on developing your business while the professional CPA takes care of your tax returns. If you are a student, you can find outsourcing as the best option as you can concentrate on your studies than worrying about tax filing. Though outsourcing is a good option, one needs to choose a genuine CPA in the USA to file a tax return.
Why Outsource Tax Returns?
There are many reasons to outsource tax filings to a professional CPA. Let's see some of the important points below.
Reduce the expense caused by recruiting a highly skilled accountant.
Get complete information and support related to tax filing. All the updates and changes will be made aware by the experts.
Improve flexibility in facing emergencies or a last-minute rush.
Minimize risk by handing over such a tedious task to a team of professionals.
As mentioned earlier, one can save enormous time and focus on business or studies.
Whom to Outsource Tax Returns to?
There are indeed many firms in and around the USA that offers tax returns services. But not all of them are highly efficient and reliable. It's highly indispensable to choose the right firm to outsource your tax filings. So, worried about how to find out a reliable tax filing partner in the USA? Well, our team of professional CPAs at NP Accounting Solutions can offer end-to-end tax filing services for you and your business.
Related – Challenges faced by international students while filing a tax return
Benefits of professional CPA services
NP Accounting Solutions is a trusted and reliable tax filing partner located in the USA. Firstly, our professional accountants would study your balance sheet and other available data clearly. These data get classified appropriately, processed, and prepared for tax return. During this process, they would analyze your profit and loss account as well. All the data gathered are finely checked and interpreted to get a clear understanding.
An internal audit is usually conducted at this stage to make sure that everything is perfectly accounted for and noted.
Finally, before filing the tax returns, they would inform their views, interpretations, comments, and suggestions to you. Once you modify and finalize the return as per your wish, we would update and send you the final tax return copy for filing. The highly skilled professional accountants at our firm would assist you in proceeding further without incurring any losses or liabilities.
They would ensure that your money is saved and also you are relaxed and meeting the tax filing deadlines. The biggest challenge faced by most of the accounting firms is that they won't be updated in statutory laws. But our team of experts is regularly trained and upgraded to the changes made now and then.
Bottom Line
To avoid last-minute tensions and rush ups, get in touch with our team today. Our team is offering a commendable service since the company's inception and it's striving hard to make the tax return as easy as possible.
I hope you enjoyed reading this post. Make your tax filing process easy by partnering with us and also don't forget to let your friends know about our service. We are waiting to read your tax filing experience in the comments below.